Flora y fauna
La isla Decepción posee una flora escasa pero excepcional, con por lo menos por 18 especies de musgos o líquenes que no han sido registrados en ningún otro lugar de la Antártida, dos de los cuales son endémicos. Ninguna otra área de la Antártida es comparable. De particular importancia son las únicas comunidades de plantas que crecen en las áreas geotermales de la isla, y la más conocida comunidad de mosto perla o "clavelito" antártico (Colobanthus quitensis). Once sub-sitios de importancia botánica fueron propuestos como Area Antártica Especialmente Protegida (ZAEP, por su sigla en inglés) No. 140. Puede accederse al plan de gestión para la ZAEP 140 desde aquí.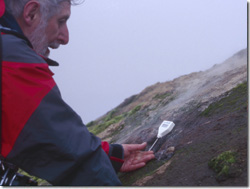 El hábitat béntico de puerto Foster es también de interés ecológico debido a la perturbación natural provocada por la actividad volcánica. Actualmente se encuentran protegidos dos sub-sitios como ZAEP No. 145. Puede accederse al plan de gestión para la ZAEP 145 desde aquí.
Nueve especies de aves marinas se reproducen en la isla. La mayor colonia del mundo de pingüinos de barbijo (Pygoscelis antarctica) está ubicada en Baily Head, en la costa sudoeste, donde anidan unas 100.000 parejas. Puede accederse al Código de conducta para visitantes en Baily Head desde aquí.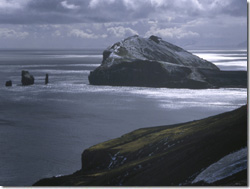 ---
Underwater Video Clips
Videographer: David Cothran
© Copyright Lindblad Expeditions/David Cothran
These clips were shot during a dive in Neptune's Bellows (the entrance to Port Foster) on January 14, 2006. Maximum depth on the dive was approximately 85 feet (26 meters) and water temperature was approximately 34°F (1°C). The dive was made at slack low tide and visibility was moderately poor, though not unusually so for this site at this time of year.
---
Clip One
This clip begins panning down from the large macroalgae (kelp) that grow attached to the lower-angle rocks at the top of the underwater buttress called Hephaestus' Wall, which was the focus of the dive. Below the macroalgae several species of encrusting sponges are visible on the upper part of the wall. The wall plunges vertically from approximately 65 feet (20 meters), where this shot was taken, to a cinder slope at approximately 105 feet (32 meters).
View clip (.mov 4.2 MB)
---
Clip Two
This clip pans up a slot in the wall at approximately 75 feet (23 meters). Numerous species of sponges, ascidians and echinoderms are visible. This wall is one of the richest and most beautiful underwater sites I have seen around the Antarctic Peninisula.
View clip (.mov 4.0 MB)
---
Clip Three
This clip shows a very different side of the underwater world of Deception Island. On the unconsolidated cinder slopes which make up much of the bottom of Port Foster, marine communities are quite depauperate, consisting of numerous individuals of a very few species. Here, on a slope adjacent to Hephaestus' Wall, the cinders are covered with thousands of brittle stars.
View clip (.mov 1.6 MB)
---
Note: .mov files are video files designed to be viewed using "QuickTime" software. Quicktime can be downloaded free-of-charge from the Apple web site