Deception Island Management Package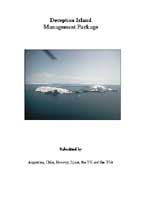 Deception Island was adopted as an Antarctic Specially Managed Area (ASMA) at Antarctic Treaty Consultative Meeting XXVIII (Stockholm, 2005). The ASMA incorporates a matrix of Antarctic Specially Protected Areas (ASPAs), Historic Sites and Monuments (HSMs), and visitor sites. This will assure its long term protection from the competing pressures of science (and the logistical support of science), nature conservation and tourism.
Each section of the Management Package is available below in either MS Word (.doc) or Portable Document Format (.pdf).
The entire Package is available to download, in PDF format from here (2.9 MB)
---
Management Package Sections: