History
Deception Island has been a focus of human activity in Antarctica since the early 1820's, when sealing expeditions first ventured through "the mouth of the Dragon into the spacious harbour" of Port Foster.
The first authenticated sighting of Deception Island was by the British sealers William Smith and Edward Bransfield from the brig Williams in January 1820. It was named by the United States sealer Nathaniel Palmer later that year. Also in 1820, Pendulum Cove became the base of the US sealing fleet led by Captain Pendleton.
The first scientific expedition to Antarctica, led by the British Captain Henry Foster, visited aboard HMS Chanticleer in 1829. Lieutenant Kendall compiled a map of Deception Island, the first accurately surveyed map of an Antarctic landmass.
In 1842, William Smiley of the US sealing vessel Ohio gave the first account of a volcanic eruption on Deception Island.
Whaling activities started in 1906-1907. The Norwegian Adolfus Andresen, founder of the Chilean Sociedad Ballenera de Magellanes, used Whalers Bay as an anchorage for whaling factory-ships. Between 1908-1910, the French explorer Jean-Baptiste Charcot visited to stock up with coal, food and water, and to make repairs to his vessel the Pourquoi Pas?. In 1912 the Hektor Whaling Company was issued with a license to establish a shore-based whaling station. Approximately 150 people worked at the station during the austral summer, producing over 140,000 barrels of whale oil. Hektor whaling station was abandoned in April 1931, when whale oil prices slumped. The Conservation Strategy for Whalers Bay can be accessed here.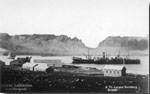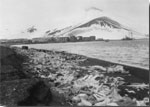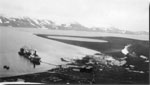 The remains of Hektor whaling station, a whalers cemetery (the largest cemetery in Antarctica) and Base B, partially destroyed by a volcanic eruption in 1969, are now protected as Antarctic Treaty Historic Site and Monument (HSM) Number 71. Further information about Hektor whaling station is available in the Conservation Strategy. The remains of Pedro Aguirre Cerda Station, which was destroyed by the 1967 eruption, are listed as HSM No. 76.
In 1928, the Australian Hubert Wilkins and the Canadian Carl Ben Eilson undertook the first powered flight in Antarctica, taking off from an improvised ash runway at Whalers Bay. Later, in 1935, Lincoln Ellsworth assembled his aircraft the Polar Star at Deception Island prior to his pioneering trans-Antarctic flight from Dundee Island. Deception Island was also the base of an early Aerial Survey Expedition (1955-57).
During the 1940's and 1950's, overlapping territorial claims of the Antarctic Peninsula region were upheld by Argentina, Chile and the UK, and were the source of political tension. Deception Island played a central and important role in the international affairs of Antarctica. In February 1944, the secret British wartime mission, Operation Tabarin (the forerunner to the British Antarctic Survey) established its first base (Base B) in the abandoned Hektor whaling station. In 1948, Argentina built Decepción Station at Fumarole Bay. Later, in 1955, Chile built Pedro Aguirre Cerda Station at Pendulum Cove.